BACKGROUND
In the 1930's, thousands of former American slaves dictated their full life stories. These precious documents were stored in archives by the U.S. government and universities throughout America. Donna Wyant Howell is the only person who has researched the W.P.A. slave narratives on a full-time basis over many consecutive years.

In 1988, she began reading and compiling many thousands of pages of dialogues and gathered hundreds of photographs taken during slavery and at the time of the interviews. She has organized and published books in categories of information, such a slave women, auction, slave children, and breeding, each in its own book. At last, specific information within the slave narratives can be accessed easily.

Each book is entirely in the former slaves' own words with their photographs. The series will contain 24 books covering the entire narrative collection. For more information, see I WAS A SLAVE.
Reading in Southern dialect, Ms. Howell brings these formerly enslaved people's words to life. She releases her dramatic flair to bring the audience members onto the plantation, show them around, and make the experience real. Audiences of many races and ages have praised her performances.
---
Partial List
of
Speaking Engagements

including Workshops, Seminars, Panels,
and Supplementary History Classes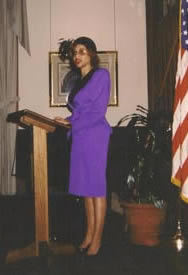 Here are a few of the better-known venues:
George Washington University, Washington, DC
Cornell University, Ithaca, New York
James Madison University, Harrisonburg, VA

George Mason University, Fairfax, Virginia
Middlesex College, Boston, Massachusetts
Hiram University, Hiram, Ohio
Portland -- Ohio State University System
St. Phillip's College - San Antonio, Tx
Virginia Public School System

National Labor Relations Board (US Federal Government)
DC Genealogical Society
Civil War Memorial Program
Southern Genealogical Association Convention
Convention of University Professors
NAFEO Convention
Midway Village Museum Center, Rockford IL
American Slavery History Program Dinner
Anacostia Museum, Washington, DC
National Association of Black Journalists Convention
U.S. Department of Defense
U.S. GAO Chapter of Blacks In Government (BIG)
Women of Washington - Special Guest of Honor
Library of Congress - Murray Association Program
Rosa Parks Tribute, Howard University
Black History Month Celebration, Washington, DC

Speakers: U.S. Congresswoman Donna Christensen,
Dr. Blakey (N.Y. African Burial Ground), and Donna Wyant Howell
Black History Celebration

National Newspaper Publishers Association
African American Genealogical Society, Silver Spring, MD
United States Information Agency (US Federal Government)
U.S. Government Accounting Office's chapter of BIG, Blacks In Government
Unity First Baptist Church, Stockton, California



Line for Autographs after Speaking Engagements

United States Parks Service
Smithsonian Institution
International African Diaspora Conference in Bermuda, Office of the Premier (President of Bermuda)


Premier (President) of Bermuda Jennifer Smith and Donna Wyant Howell
Ms. Howell was flown to Bermuda as Premier Smith's special guest and keynote speaker.

National Juneteenth Day Program, U.S. Capitol Building
United States Postal Service - Special Presentation
PLUS dozens of private organizations,
churches, clubs, conferences, bookstores, and panels
---
A Special Note to You
"I love to excite people with valuable information about incredibly fascinating, formerly enslaved people. You will marvel at their strength! They will make you laugh so hard. They will inspire you to use your freedom, regardless of your race, to accomplish your greatest dream.

For the rest of my life, I will be telling the world about the male and female laborers who built much of New York City and accurately raised the U.S. Capitol Building in Washington without being able to read, the artisans who carved intricate sculptures into the marble of government buildings throughout the South, and the field hands who sustained the cotton, tobacco, and many other industries enabling the United States of America to become so rich that it rose to a world power in hundreds (not thousands) of years.

I will tell you about America's Noble Ancestors in their own words and in mine."

DWH
---
---
Speaking Topics | MORE PHOTOGRAPHS
Speaking Engagements • Workshops • Panels
One-Day History Classes