PBS SPECIAL
Donna Wyant Howell was hired as an expert consultant, researcher, contributor of content, and provider of dialect voiceovers for the PBS Special Slavery's Buried Past that aired nationally and continues to be rebroadcast nationally on PBS stations and internationally on other stations.
Slavery's Buried Past, hosted by Bill Kurtis and part of a Peabody Award-winning series, includes photographs and excerpts from Ms. Howell's books, The I WAS A SLAVE Book Collection.
Ms. Howell's name and her book's title are individually included in separate sections of the rolling credits at the end.
When the PBS program needed an expert consultant for the documentary, the staff contacted a head archivist of the Library of Congress, who recommended Ms. Howell because she is considered to be THE foremost expert in the WPA slave narratives.
---
DONNA WYANT HOWELL
interviewed on
"Talk of the Nation"
on


NATIONAL PUBLIC RADIO
---
W o r l d w i d e R a d i o



with Host Terri Keefe interviewing Howell
The international radio interview continues to be re-broadcast throughout
Africa • Asia • Europe • and the Middle East
---

Speaker and Honoree*
Donna Wyant Howell
moderated by
Maureen Bunyan, ABC television news anchor

*Previous honorees include:
Mrs. Sadat of Egypt (former First Lady of Egypt), Dorothy Height,
Helen Thomas (highest ranking of White House press), and Patti LaBelle,
among other distinguished guests of honor
---

Ms. Howell has been interviewed on
many television programs
and newscasts ...
National
NBC

National
CBS

National
ABC

FOX
in many states
International
CNN
International
C-SPAN
BET
Television
... plus hundreds of national and international newspapers ...
The New York Times • Evansville Courier • Kansas City Star • Clarion Leader • Daily Progress • Idaho Statesman • Indianapolis Star • San Antonio Express News • Albuquerque Journal • Topeka Capital Journal • Orlando Sentinel • Lexington Herald Leader • Jacksonville Times Union • Houston Chronicle • Times Union (Albany, NY) • Plainfield Courier • Contra Costa Times • Boulder Daily Camera • Miami Herald • Journal Star • Philadelphia Inquirer • News Journal • Bellingham Herald • Ft. Worth Star Telegraph • Palm Beach Post • San Francisco Chronicle • Flint Journal • Atlantic City Press • Times Picayun (New Orleans) • Sarasota Herald (Florida) • Daily Gazette (Mechanicsville, NY) • Detroit News • Savannah Morning News • Tacoma Tribune (Washington) • Burlington Free Press (Vermont) • Paris Herald Tribune • Charlotte Observer • Daily Record (North Carolina) • Daily Journal (Nettleton, MS) • Tampa Tribune • Tulsa World (Oklahoma) • St. Petersburg Times (Florida) • Elkhart Truth (Elkhart, IN) • Seattle Times • The Washington Times (DC) and more.
Click here for articles in


THE WASHINGTON POST
---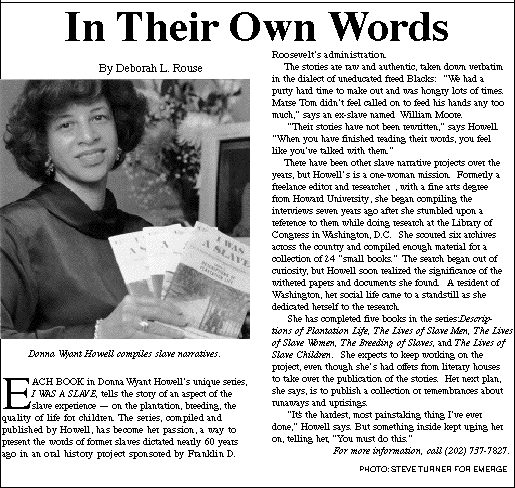 ---
... and dozens of radio and magazine interviews.
Each registered trademark shown above is owned by its respective company.